Thankful Body Massage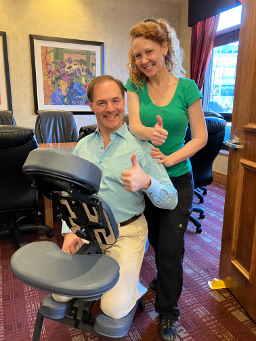 W

hy use a small local massage company?

There are many large chair massage companies across the U.S. Technology has made their business model available, and new ones are constantly springing up. However, bigger is not better when it comes to massage.

Large companies contract with independent therapists, by having them email a few documents. They never speak to them or meet them. They do not interview them. They have no means to address or measure quality.

In contrast, I live and work in the Twin Cities. I understand our unique culture, and am right there with you on issues from snow storms to local Vikings games. As owner and therapist of my business, I am very invested in quality. I want you to have an amazing experience, from phone calls or emails to the actual massage services. I will make sure every step of the way is done with courtesy and professionalism.

With large companies, you will deal with different people for different aspects. They may have a booking department, a customer service department, a billing department, and of course, their workforce--massage therapists they have never met or spoken to.

In contrast, I am the only person you will deal with at Thankful Body Massage. Details will never fall through the cracks because one department did not communicate with another. I have seen therapists show up to the wrong address, on the wrong day, at the wrong time, with the wrong equipment--because a large national company couldn't manage their details. With me, you get the beauty of simplicity and transparency. And when the owner is also the worker, you get the best possible service!

Large companies pay their massage therapists less than half of what they charge you. (There are currently no large massage companies based out of Minnesota.)

In contrast, using Thankful Body Massage means your money will stay in our city. I work hard as a therapist, and I love pouring my energy into helping the workforce of the Twin Cities. Keep our talent and resources local by employing a business firmly rooted right here in Minneapolis.

Large companies have no way to monitor or enforce a good work ethic. They use phone apps or email to send therapists to jobs, but they are hundreds of miles away, and are never there to see how well those jobs are done. Countless times, quality suffers when there is no consequence for not maintaining it.

In contrast, I ensure a superlative work ethic at Thankful Body Massage. I have everything invested in you, the client, enjoying your experience. I am constantly available for feedback. The same person who does the massaging is the one who answers the phone.

Book chair massage through Thankful Body Massage and you will love the entire experience!